Edhi Foundation refuses to accept donation from Indian Prime Minister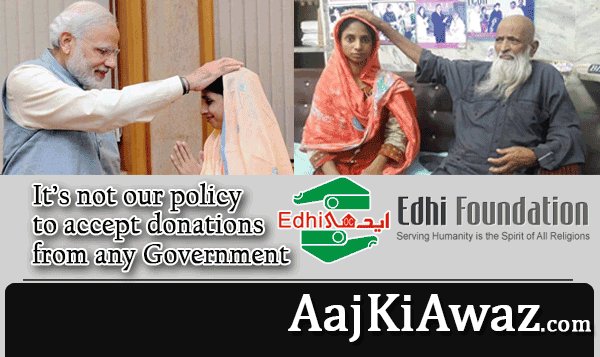 KARACHI: The Edhi Foundation on Tuesday has refused to accept Rs10 million donation announced by Indian Prime Minister Narendra Modi. According to Faisal Edhi, son of renowned philanthropist Abdul Sattar Edhi, it was not organization's policy to accept donations from any government. Upon her arrival in India, Geeta met Modi who applauded Edhi family for taking care of the girl.
"What the Edhi family has done is too priceless to be measured but I am happy to announce a contribution of Rs1 crore to their foundation," Modi had said.
Modi had announced the donation for the Pakistan's Edhi Foundation after Geeta, a mute and deaf Indian girl, returned to India yesterday 12 years after she strayed into Pakistani territory.
Geeta was 11 or 12 when police found her, alone and disorientated with no identity papers, on a train that had crossed the border from India into the eastern city of Lahore.
She was believed to have strayed into Pakistani territory by mistake, but could not remember or explain exactly where she was from.
Pakistani police handed her over to the Edhi Foundation, the largest charity in the country, and she now lives in one of their shelters in Karachi.
Even the name "Geeta" was given to her by Edhi staff.  If her DNA does not match that of the family, who have travelled to Delhi specially to greet her, authorities have said they will find a home for Geeta in a "suitable institution".