Pakistanis in UAE must now apply, renew Nadra card online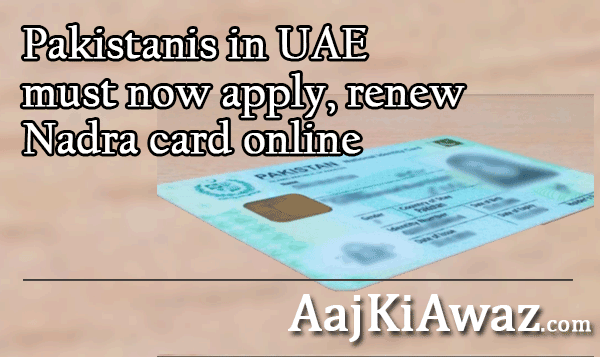 Dubai : Pakistani expatriates in the UAE will no longer have to stand in queue at the consulate in Dubai or the embassy in Abu Dhabi to renew or make fresh National Identity Card for Overseas Pakistanis (Nicop) and Pakistan Origin Card (POC).
Nadra – which is the authority of issuing Nicop and POC for Pakistanis inside and outside the country – has instructed the missions in the UAE to stop receiving manual forms.
"As per instructions of Nadra, manual booking of Nicop applications through forms has been stopped at the Embassy of Pakistan, Abu Dhabi, and Consulate General, Dubai," the Pakistani missions in the UAE said in a press statement.
"From now onwards, visitors will only be able to apply online for Nicop services at Nadra Section of the embassy and consulate. Manual forms will not be accepted anymore," the statement added.
There are approximately 1.2 million Pakistanis in the UAE. Nadra cards are mandatory in order to renew or issue new passports for Pakistani nationals.
As part of push towards e-government initiative, Pakistani expatriates in the UAE can renew or apply for new Nicop and POC cards online and get them delivered to their homes in the UAE by making online payment through the Nadra portal.
"To further facilitate the overseas Pakistanis, the government has introduced facility to apply for Nicop through internet, while sitting at home," the media statement noted.
Even the POC applications have also been stopped by both the Pakistani missions in the UAE, hence Pakistanis can now apply through Nadra website only.
From November 1, 2015, Pakistani missions in the UAE will also stop issuing manual passports – even in emergency cases – and had advised Pakistani nationals in June to obtain machine readable passports on urgent basis.
Pakistani missions have not been issuing manual passports on a regular basis since 2013, but only in emergency cases in case the passport is burnt or lost and the holder has to travel due to an emergency.